11 Pride Month: Good People Celebrate Goodness
If there was ever a "Pride Month" episode on Gilmore Girls, with a Stars Hollow Pride Festival, it might go something like this...
Parking 🚙 easy-peasy and plentiful

Admission 🎟 low, non-existent, or proof-not-required for entry

Community Spirit 😊 well-attended with throngs of colorful well-wishers
Our first Pride Month in Portland...went pretty much like that!
The only things missing were the nerdy wisecracks from Rory and Lorelai.
We attended three charming events in June that made our first Pride Month in the Pacific Northwest a stand-out: a lesbian choir concert, a pride parade and festival, and an Indigo Girls concert. Scroll down for the enchanting details, plus vids and pics.
Portland Lesbian Choir concert
The venue for this 90-member strong choir was...an all-girls Catholic school auditorium.
And it was packed.
The volunteer usher who handed us our programs jokingly acknowledged that Yes, no one is really checking for proof that you have tickets. Oh well! Here's a program, enjoy!
The concert was titled Come Together in times like these.
And it cultivated a group energy of taking a stand for all that's good and noble in the human heart.
There's something romantic about walking in the pouring rain on nights like this. It was rainy that evening, but a pouring out of blessings.
Next up:
Portland Pride Parade and Festival
Another amazingly packed crowd!
The waterfront park along the Willamette River was the idyllic venue, and the weather was sunny but not sweltering.
A cash donation of $8 per person was accepted for admission, but not required. If you didn't have it, Come on in anyway. It's just a suggested donation. We want you to join the party.
We donated the cash while picking our jaws up off the ground.
Compared to the other Pride Festivals we've been to – required admission prices of up to $25 – this was unheard of.
And a party it was.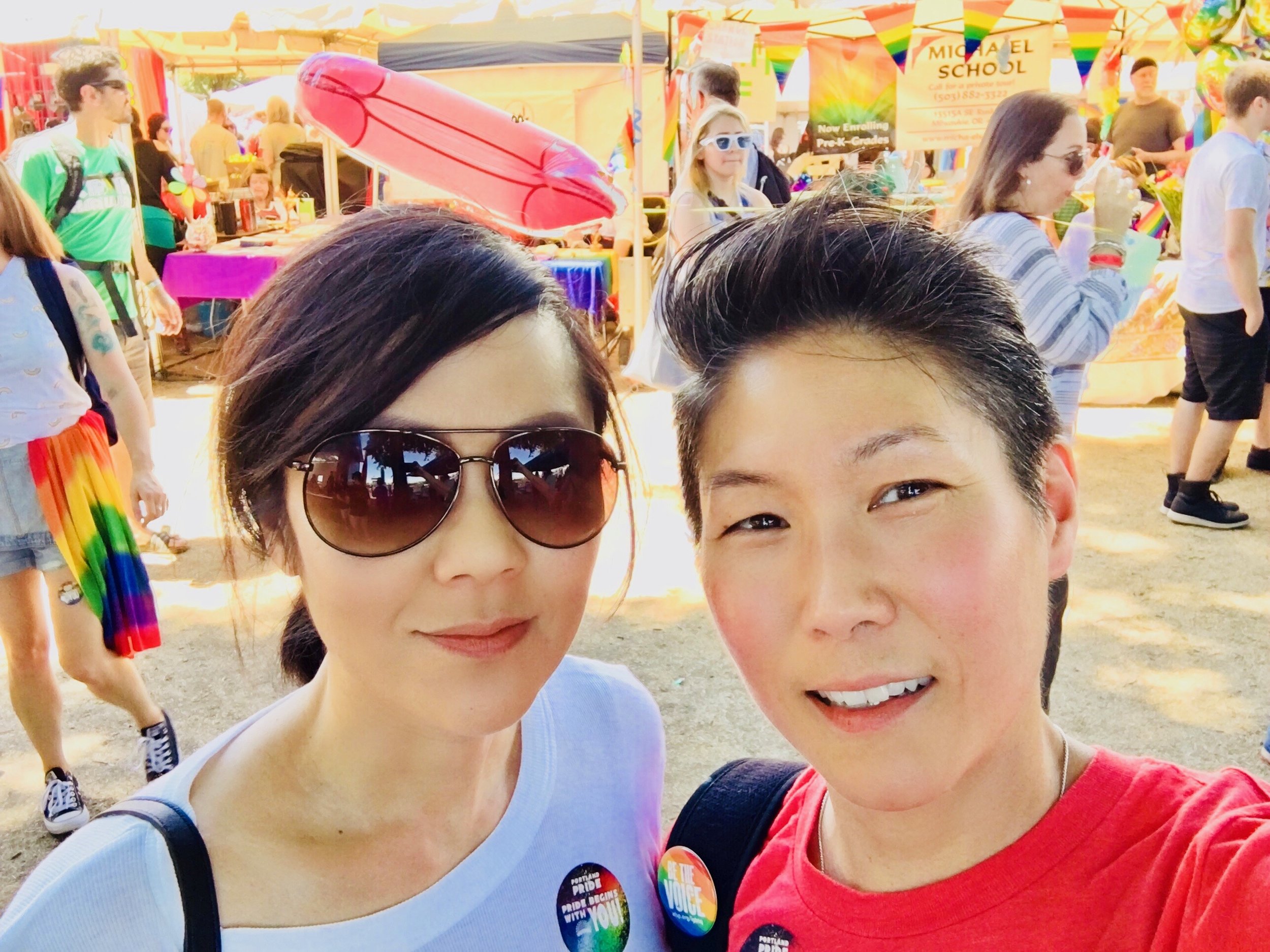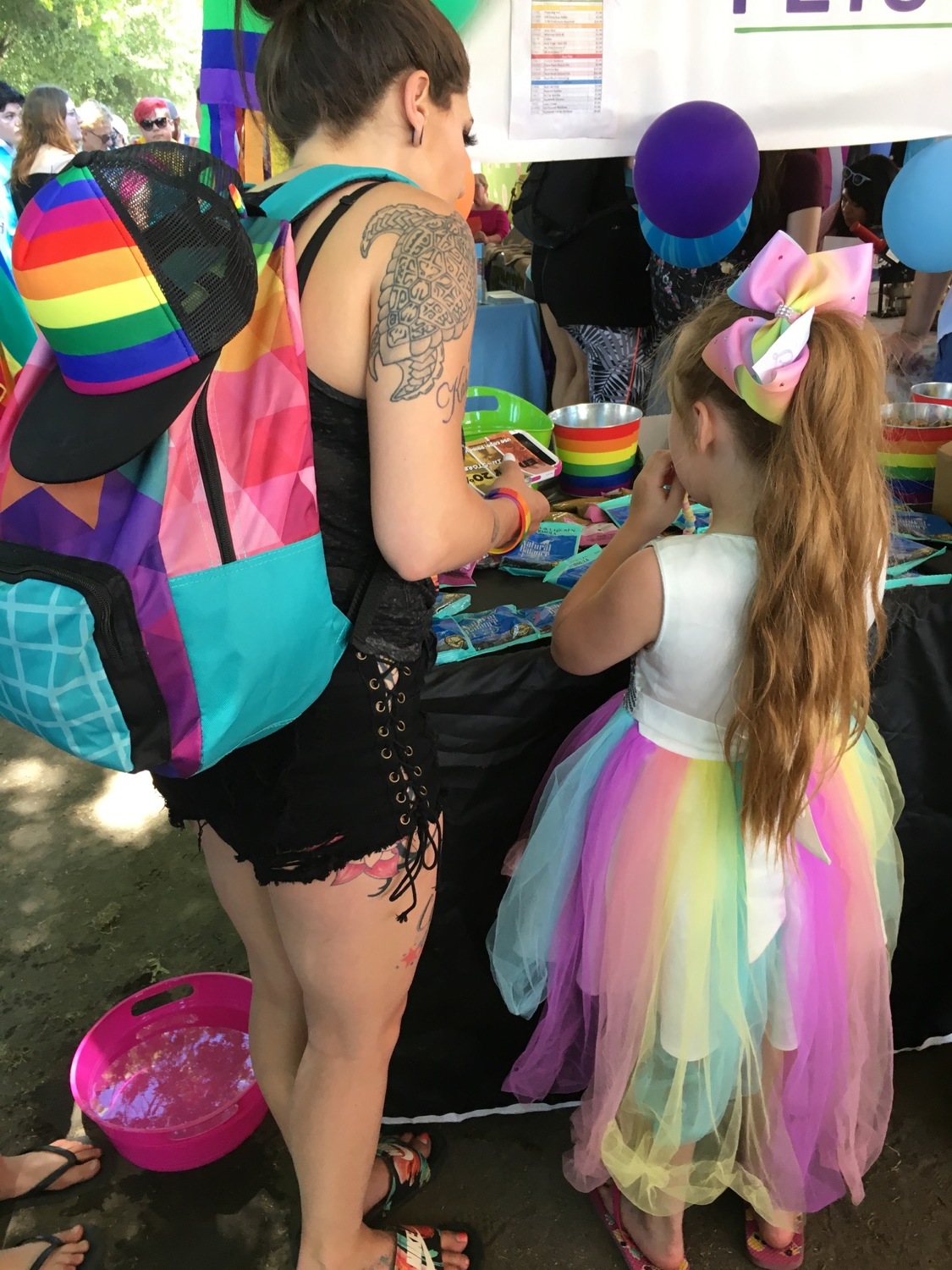 (That red "Love Wins" cat T-shirt is what Toast wore to Pride.)
This was the largest gathering of people we've seen yet in Portland.
And the happiest.
Lots of rainbow colored tutus, suspenders (yep, for holding up pants), angel wings, and unicorn horns (you wear them like a headband).
It was an atmosphere exuding joyful, positive peace
Not the absence of tension, but the Positive presence of
proactive kindness

generosity of spirit and

the earnest work of building a culture that supports the potential in every human being
Now that's what we're all about!
But Pride Month wasn't over yet.
We had one more concert on our calendar.
And we'd been waiting for it since winter.
Indigo Girls concert
...at The Oregon Zoo amphitheater, was another picturesque open-air setting, this time, among evergreen trees and Asian Elephants.
The zoo's elephant enclosure sits behind the audience area.
This means the performers onstage got to watch the audience and the elephants, at the same time.
A show for everyone.
The concert grounds were also dotted with a nice variety of local food, beverage, and dessert trucks. We enjoyed a Koi Fusion bowl before making our way to our seats...and then getting a Pip's Doughnuts "Ginger Rodgers" Chai.
Lucy Wainwright Roche offered a perfect opening set before Indigo Girls took the stage.
An extra bonus, was the definitely-not-shy woman right in front of us who kept standing up and yelling "Amy!!! 'Romeo and Juliet'!!! Pleeeease!!!" between songs. One time she even shouted, "Amy!!! I know you can hear me!!!" Everyone in our area exchanged some good chuckles and smiles about that. Unfortunately for the woman, 'Romeo & Juliet' just did not happen. (Has it ever?)
But, as our fellow Indigo Girls fans will know, 'Galileo' surely did.
We all cheered for the sounds of string and wood, and the human voice, paying tribute to our lil' part in the Great Mystery of life under the moon in the dusky sky.
One of the things we admire about the Indigo Girls is how they use their influence for life-affirming work in the world.
The group they were supporting that night was Moms Demand Action for gun sense in America, who had a table at the event.